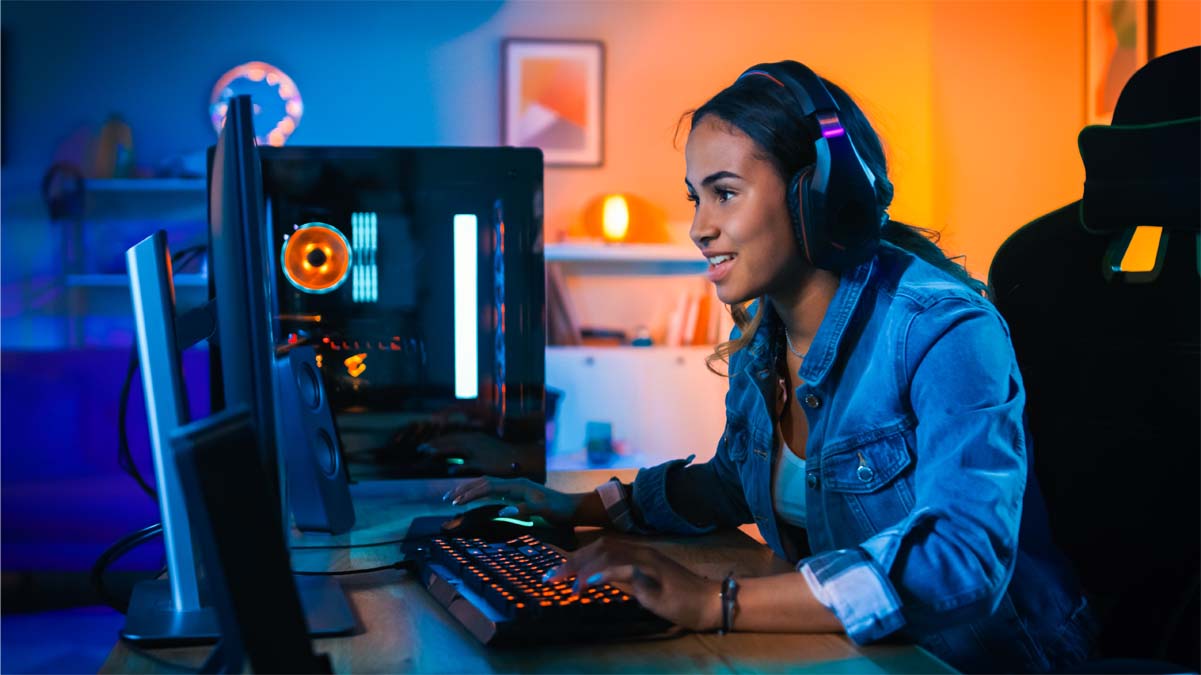 What do girls want in education? The nitty-gritty. And also the possibility of deciding for themselves what is important to them: in what way they want to develop, what to study, and where to build their careers. They want to take up challenges bravely and without limitations, to destroy stereotypes, to cross boundaries. And to change the rules of the game.
This is the assumption made by the organisers of Girls in the Game! Poland's first mentoring and grant program addressed to young women in senior years of high school from smaller towns and cities (up to 50,000 inhabitants), interested in gaming and new technologies. The program was launched on 1 October 2021.
CD PROJEKT RED, the legendary Polish development studio, creating video games renowned all over the world (e.g., The Whitcher, Cyberpunk 2077) and the Perspektywy Education Foundation, a well-known non-profit organisation, helping young people in choosing their education and career path for almost 25 years, have now joined forces for a shared project" Girls in the Game! supporting the education of young women in the area of new technologies and preparing them for work in the video games industry.
The Girls in the Game! participants can look forward to 20 one-year grants of PLN 1,000 per month, a series of workshops devoted to various aspects of creating video games, as well as individual mentoring care from CD PROJEKT RED experts.
"We are addressing our program to young girls from smaller communities, who are only starting to plan their future and career. Maybe some of them have never thought seriously about working in video games, because this is "a boy thing"? There is a stereotype still present in our society that the video games industry is a place created mostly by men and for men. We want to change it and therefore make the entry into our industry easier for girls, while also making it more diverse," says Agnieszka Szamałek-Michalska, Internal Communication & Culture Manager in CD PROJEKT RED.
Meanwhile the presence of women in the gaming and e-sport world does not surprise anyone anymore. According to the newest research by IQS, published in the "Game Story" report, there are 17 million gamers in Poland in the 9–55 age group, out of which 47% – meaning 8 million – are women! Almost 2.3 million women declare that they play at a console or PC every day, while 22% of female gamers declare gaming to be their passion. And it is to them – young women who love virtual worlds, who are passionate about computer illustration and graphics; who are taking their first steps in 3D animation; who are trying their hand at programming or creating stories of superheroes' incredible adventures – that the "Girls in the Game" mentoring and grant program is addressed.
"At Perspektywy we strongly believe in girls and their power to change the world. With the "Girls in the Game" we will encourage them to spread their wings in the very exciting area of gaming. This is one of the fastest-developing industries, Poland's flagship – it is time for women's voice to be heard in it. Creating this program together with CD PROJEKT — the trend-setting visionary — is an honour for us. Together we want to reach the talented girls, pass them knowledge, tools and what is less tangible, but most important: a dose of knowledge that will help them to see their lives in wider perspective and to plan their future in style. This program is like Ciri, the warrior princess from The Whitcher. With her we will fight to truly put girls in the game!," says Dr. Bianka Siwińska, CEO of Perspektywy Women in Tech.
There is a reason why the patron of the Girls in the Game! mentoring and grant program is Karolina Grochowska, an ambitious and talented producer of cult video games (e.g. The Whitcher, Bulletstorm, and Gears of War), who unfortunately passed away prematurely. Her passion, engagement and energy are a message to all the girls who want to fulfil their dreams of working in the gaming industry. Not just as professional gamers, but also as the creators, writers, artists and designers, developers and producers.
Recruitment for the Girls in the Game! program started on 1 October and will continue until 10 December 2021. More information about the program, along with the rules and application forms, can be found at the official website: www.dziewczynywgrze.pl